Hello, stakeborgars & stakeborgirls!
Here are the main events that took place this week.
---
StakeborgDAO:
DAO Gouvernance Info
📊$STANDARD , $ILSI and $DAOX stats and prices at the end of the week:
📲Social Media interaction weekly update: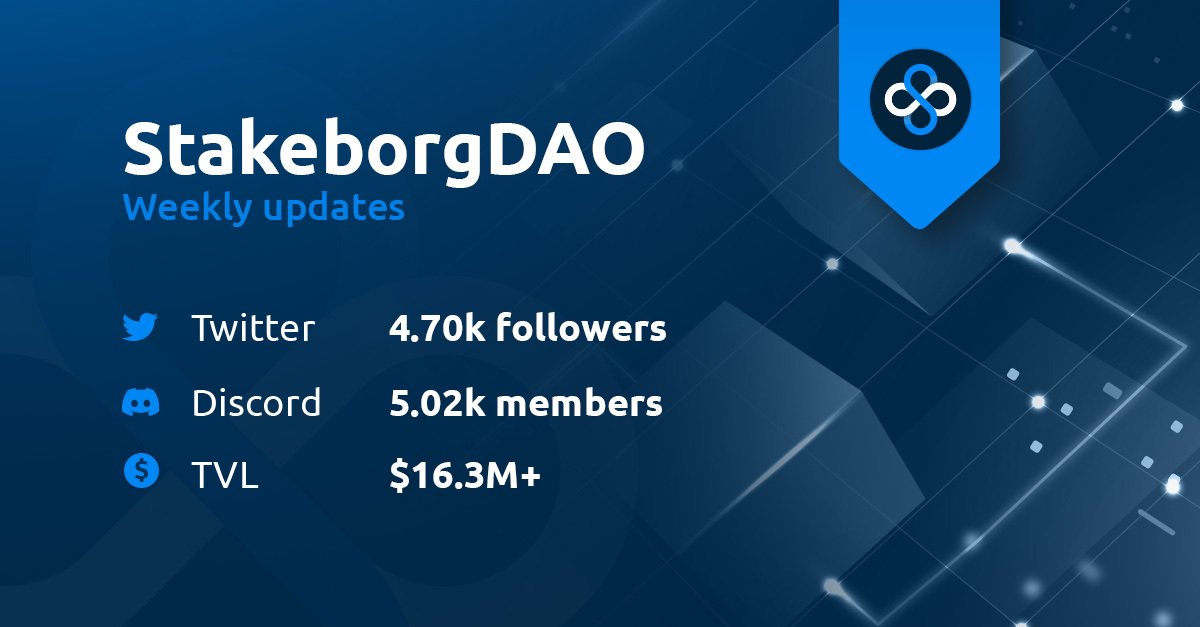 📢On Monday we received the announcement that Rodrigo Gordillo, an expert in adaptive asset allocation and investing joins us as an advisor!:
💵Starting from Tuesday, $STANDARD rewards can be earned by LP providers of the DAOX pool. Epoch 1 is Live:
Youtube
👨‍🚀👨‍🚀The 6th Episode of DAOnauts!
Alex and Matei talked about decentralized decision making and on-chain governance
Also below, the summary of the episode made by @fcucv48:
At the beginning of this episode, the main topic was about on-chain governance(a system through which, changes into crypto Blockchains are managed). These changes go through proposals, which means the participants or nodes have to vote to accept them or not.
Advantages of this kind of governance:
many participants – have many opinions about the proposal, how it should be implemented, etc
it's quicker to make a proposal than in traditional organizations
Disadvantages:
potentially low voting participation(many protocols struggle to reach the minimum agreement threshold)
bear market – when people are not making money anymore, they tend to leave the web3 space
the vote being optional, many people won't leave their comfort zone
the issue with big fees on ETH Network
voters fatigue – when you got too many proposals, it simply gets tiring for people to keep up(you have to understand all the areas that your DAO tries to deal with – it takes a lot of time to read and understand a proposal, and if you want to use your vote wisely, you also need to have some knowledge regarding that subject
buying voting power – besides the obvious issue(when someone buys many tokens being able to influence a proposal), another problem comes to light: the loan of tokens. Someone can take a loan for a short time, and return it after he votes for a specific proposals
The next topic discussed was about voting – how people can vote, and how they can filter proposals(well-structured proposals vs ambiguous proposals), to make better decisions. Here, the discussion was split into 2 parts:
how exactly we should vote – governance can be done by both, tokens and NFTs(some DAOs have chosen to separate voting power and commercial value of the tokens). Consequently, some DAOs will offer an economic value token and a different token/NFT(that can be tradable, or not tradable), that you can vote with.
To filter proposals, StakeborgDAO adopted a structure of how a new proposal should look like:
summary – a short and clear description of the proposal;
motivation – what is the problem/opportunity the proposal identifies;
execution part – what are the steps and details to achieve the proposal's goal. By who and how long it will take;
resources – what people working on that do need, in terms of financing, support, etc;
success metrics and KPI – how do we measure the success, and what are the targets we are trying to achieve;
team background – who is part of the team and their presentation;
The final topic that Matei and Alex debated was: Any type of voting is a form of tyranny?. An argument that comes to sustain this affirmation is that when a majority, even if it's a small majority(e.g. 51%), votes for something, the other people that voted against are just left out of the equation. And even so, the majority isn't right every time, and if a big part of the people has the same idea, it doesn't mean that they are right. On the other hand, it's more than clear that it's impossible to please everybody, and wrong or partially wrong decisions are a normal thing in life. What can we do? We can try to educate ourselves and others as much as we can, to minimize the risk of the majority being wrong.
📺The 16th Episode of StakeborgDAO Talks!
Vlad had as guest Mark Yusko, founder, CEO and CIO of Morgan Creek Capital Management. They talked about how important is to be an early investor, inflation, crypto market status, NFT's and many others interesting topics:
Twitter:
The Crypto Insider:
🎧The Crypto Insider Report #29
---
Community Highlights:
📃One of our community members, @kachow (MEANiX) has wrote an great article, posted on CoinDesk, around the possibility of getting a refund on minted NFTs, by using a concept named ERC-721R.
📣The #onbording team new proposal is still on debating on Agora with the test version, you have the link to it here.
🏍#Roadtolevel7 daily topics. We remind you that @Mtk is encouraging conversations on a diverse range of topics. New members – you should join the conversation! See you on #random-talks!
🍻IRL Meet-Ups
LONDON, UK 16.04.2022
Participants: @Kasik @IulianLoiso.dao @RDU @Bogdani @AlexCara
LIVORNO, ITALY 18.04.2022
Participants: @erwin, @cristian-b
BUCHAREST, ROMANIA 17.04.2022
Participants: @historyalex @Flepsman(alazar.eth) @GeoRgeTdr @BeSaio @Skirider @Marius95 @ParaaS @rbrt_phnx @ioana @NIRV4N4 @Eve Grig
💭Community Reports
---
News:
📰 The first traditional bank in Portugal to receive an operating license in the crypto space from the national authorities : https://www.coindesk.com/business/2022/04/14/central-bank-of-portugal-grants-countrys-first-crypto-license-to-a-bank/
📰 Binance integrates the Elrond Standard Digital Token (ESDT) standard, and UTK, Utrust's token crypto payments token, has become the first ESDT token listed on the platform: https://elrond.com/blog/binance-integrates-elrond-tokens-utk-first-esdt-listed/
📰 UST, the stable ecosystem of the Terra ecosystem, climbs to 3rd place in its category in a top of the market head, ahead of BUSD: https://decrypt.co/98140/terras-luna-crypto-market-recovery
📰 Blockchain.com, a crypto trading and services platform, is preparing for listing on the stock exchange. The company was valued at $ 14 billion in a March 2022 funding round and is in the process of choosing the investment banks it will work with for the listing process: https://finance.yahoo.com/news/crypto-firm-blockchain-com-planning-024332101.html
📰 The first partnership in the NFL, the professional football league, with a company from the crypto space: https://blockworks.co/in-first-crypto-partnership-with-nfl-blockchain-com-teams-up-with-dallas-cowboys/?utm_source=Sailthru&utm_medium=email&utm_campaign=Daily%20NL%20Wednesday%204.13.22&utm_term=Daily%20Newsletter
---
Retrospective:
A good video by Andrei Jikh on Fannie Mae Economical Analysis:
---
The blockchain keeps everyone honest, and a whole layer of banking bureaucracy is removed, lowering costs.

Paul Vigna
---
Made with ❤ by The DAO Insider Team
---